There are so many fun ways to decorate everyday terra cotta pots.
On their own, I think they have a certain old world charm, but since they're readily available and pretty inexpensive, they also make excellent canvases for these fruit-inspired planters.
The notion started with this little gift from a friend.
She supports my aspiring green-thumb and gave me a few clippings from her bounty of houseplants. For the longest, the plant just sat in a cup of water on my windowsill. Then I noticed it had formed roots and seemed ready to be transplanted into a new home.
So I spray painted a terra cotta pot and saucer a bright, fun yellow.
It required 3-4 coats for an even finish because terra cotta is porous. In retrospect, I could have applied a coat or two of primer first to conserve the color spray paint. And if you don't have spray paint, acrylic paint works fine, too.
After the paint dried, I used a brown permanent marker and drew "v's" in alternating rows around the planter. Popped in the plant and voila!
It's a pineapple!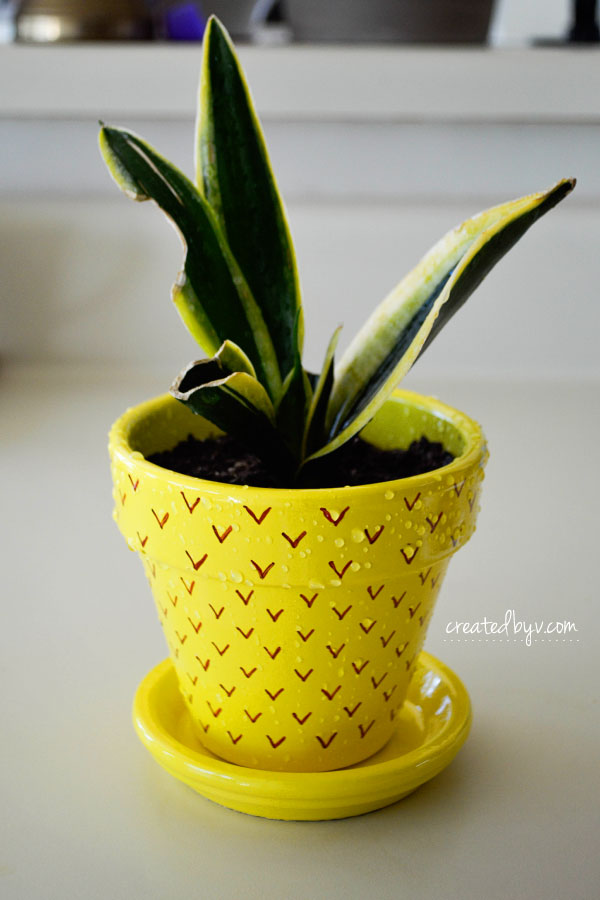 And while I was feeling a little fruity, I taped off the rim of another terra cotta pot and spray painted the body and saucer a bright red. After the red dried, I taped it off and spray painted the rim a dark green.
A few quick spritzes of light green gave the texture of a rind, and a scattering of seeds drawn with a black permanent marker finished off the watermelon effect.
In went another fun plant (a Fittonia), and I have a fun and fruity pairing!
You can have a pair, too. These fruit-inspired planters don't require a lot of money or artistic ability, and still provide a nice pop of color for the sunny months. Plus, adding greenery to a living space is always a win in my book!
So the pineapple or the watermelon planter… Which one do you like best?
If you like this project, be sure to subscribe to the newsletter to receive creative ideas and inspiration. Thanks for reading! — v.