Growing up, we had a side of homemade cornbread with just about every meal. It was fluffy and sweet and reminded me of cake. Topped with a slice of butter, it brought out the flavor of meat, perfectly complemented baked beans and made any vegetable tolerable. It remains one of my family's favorites even now.
I've remastered the recipe of my youth and am sharing it today in preparation of the feasts that will soon take place. It is definitely on our menu for Christmas.
Stay tuned tomorrow when I'll show you how to turn this homemade cornbread into a satisfying cornbread stuffing for Christmas dinner, too.
Homemade Cornbread
The first thing I do when making cornbread is to make my own buttermilk. Pour one tablespoon of lemon juice into a measuring cup. Then fill the remainder — up to the 1 cup line — with milk. Let sit for about 5 minutes.
Normally I use two tablespoons of lemon juice whenever I make my own buttermilk, but for this cornbread, one is the perfect amount. That one tablespoon adds a brightness to the bread that you can't get with white vinegar, either.
Next, combine yellow corn meal, flour, sugar, baking powder and salt in a large bowl. I grew up on Quaker's yellow corn meal so that's what I use. Give it a good stir so all the ingredients are combined.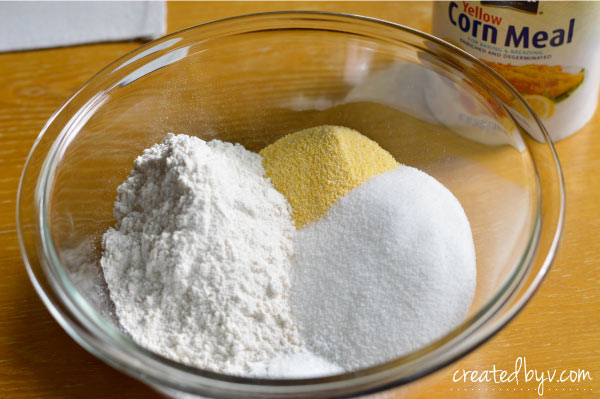 Push the dry ingredients to the edges of the bowl to create a well in the center of the bowl. Pour in the vegetable oil, buttermilk — curdles and all — and an egg.
Mix until just combined. It's okay if there are still some lumps — just no flour streaks. Pour into a greased and floured 8″ square pan.
Or muffin tins. Whichever you fancy.
Bake in preheated oven until perfectly golden, about 20-22 minutes. Let cool for a few minutes and then slather with butter. Yum!
Enjoy this recipe with V's Super Bowl Chili and
check back tomorrow for my homemade cornbread stuffing.
Thanks for reading!  — v.
Ingredients
1 cup all-purpose flour
2/3 cup yellow corn meal
1/2 cup granulated sugar
2 tsp baking powder
1/2 tsp kosher salt
1 cup buttermilk*
1/4 cup vegetable oil
1 large egg
*For the buttermilk:

1 Tbsp lemon juice
1 cup (-1 Tbsp) milk
Instructions
Preheat oven to 400 degrees F. Grease and flour an 8" square baking pan or coat it with baking spray.
Add 1 Tbsp of lemon juice to a measuring cup. Fill the remainder up to the 1 cup line with milk. Set aside for about 5 minutes.
In a large bowl, whisk together flour, corn meal, sugar, baking powder and salt. Create a well within the dry ingredients and pour the vegetable oil, buttermilk and egg into the center. Mix until combined and pour into prepared pan.
Bake for 20-22 minutes or until a toothpick inserted into the center comes out clean. Allow to cool and then spread butter on top. Cut into 16 pieces.
https://www.createdbyv.com/homemade-cornbread/
All Rights Reserved. www.createdbyv.com // inspiring everyday creativity