Whether you have a house full of guests or just the usual suspects, it's incredibly helpful to have a low-maintenance, high-quality breakfast ready for Christmas morning so you can focus on the things that matter most. So on this 11th Baking Day of Christmas, I present a savory make-ahead breakfast casserole featuring fresh ingredients.
Let's jump right in to the prep work, which can be done the evening before. Here is your cast of characters: turkey sausage, baby spinach, baby bella mushrooms, roma tomatoes and feta cheese.
Add a bit of olive oil to a large pan and sauté the spinach. Spinach reduces a LOT so go ahead and use the whole bag.
Wash and slice 3-4 large mushrooms and add them to the frying pan. I've read you're supposed to just wipe mushrooms off with a paper towel, but fertilizer…! They get a quick rinse in my house.
While you're at the cutting board, go ahead and mince a clove of garlic and throw that into the pan, too. See how much the spinach has reduced?
Once the veggies are tender, transfer to a colander and allow the spinach to drain its excess water.
If your pan is a little dry, add a touch of olive oil and sauté onions and garlic. Squish the turkey sausage out of its thin casing to make it crumbly, and cook through. Season with pepper and a hint of rosemary.
Next, slice a baguette of crusty bread and line the bottom of a baking dish with the bread slices. The crustier and staler the better.
Then whisk eggs, milk and salt together in a medium bowl, and we're ready to assemble the casserole.
(1)  Pour half of the egg mixture into the baking dish to cover the bread slices.
(2)  Combine the sautéed veggies with the cooked turkey sausage and layer on top of the bread. Sprinkle with feta.
(3)  Pour the remainder of the egg mixture evenly on top.
Whoops! Forgot the tomatoes. Drop them right in.
And finish with a layer of shredded cheese. Normally I use mozzarella and/or parmesan with feta, but I didn't have any in the fridge and didn't feel like taking yet another trip to the grocery store (who's with me?), so I threw on some mild cheddar. Feel free to adjust the ingredients to your personal palate.
So now that the casserole is set, let it marinate in the fridge until morning.
Before baking, let the dish sit at room temperature about 15 minutes. Then pop it into a hot oven and let it bake uncovered until the eggs set, about 45-50 minutes. If the top starts to brown too quickly, cover loosely with aluminum foil.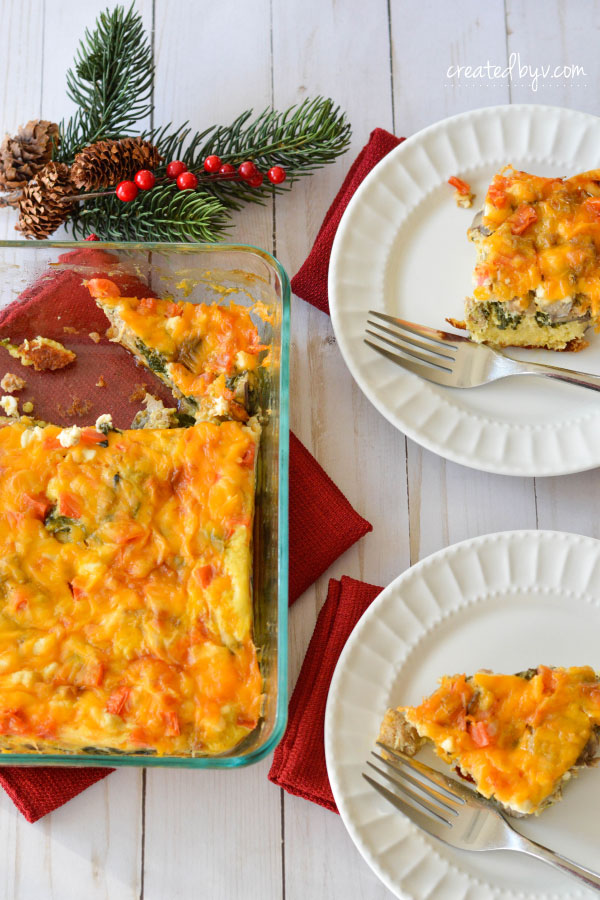 A word or two about texture: the eggs are light and fluffy and the bread is soft — not soggy — so if you're looking for a crunch, pour the ingredients into a pie tin with a store-bought crust and bake like a quiche. Otherwise this breakfast casserole partners well with mimosas and is savory enough to reheat for dinner!
Here are two more overnight sensations to make your mornings easier:
Baked French Toast Casserole                      Cinnamon Roll Casserole
Enjoy and Happy Holidays! — v.
Make-Ahead Breakfast Casserole
Ingredients
1 baguette of crusty bread
1 cup mushrooms, sliced
1/2 cup tomatoes, diced
1/4 cup onion, diced
2 cloves of garlic, minced and divided
1-2 Tbsp extra virgin olive oil
1 (6 oz) bag of baby spinach
10 oz. turkey sausage (about 3 links)
1/4 tsp ground black pepper
1/8 tsp ground rosemary
5 large eggs
1 cup milk
1/2 tsp kosher salt
1/2 cup feta cheese
1/2 cup shredded mozzarella
Instructions
Prep work: Cut baguette into 1/2" slices. Slice mushrooms, if necessary. Dice tomatoes, taking care to remove seeds and juice. Chop onions and mince garlic. Set items aside.
In a large skillet, heat a tablespoon of olive oil and sauté spinach, mushrooms and half of minced garlic until tender. Transfer to colander to drain the spinach's excess water; set aside.
If the skillet is dry, add another tablespoon of olive oil and sauté onions and the rest of the minced garlic. Remove turkey sausage from its casing and crumble into pan; season with pepper and rosemary. Cook through; combine with drained spinach mixture; set aside.
In a medium bowl, whisk eggs, milk and salt together set aside.
Coat a 9x13" (or similar) baking dish with cooking spray and line the bottom with bread slices. Top with half of egg mixture. Layer sausage and spinach mixture on top of the bread and sprinkle with feta cheese and tomatoes. Evenly pour remainder of egg mixture over the top and layer with mozzarella. Place in refrigerator overnight.
Allow the baking dish to sit at room temperature for 15 minutes before baking. Preheat oven to 325 degrees F. Bake uncovered until eggs are set, about 45-50 minutes. If the top browns too quickly, loosely cover with aluminum foil. Allow to rest 5 minutes before serving.
https://www.createdbyv.com/make-ahead-breakfast-casserole/
All Rights Reserved. www.createdbyv.com // inspiring everyday creativity